SPRAY-ON FIREPROOFING
We have one of the best teams for the application of spray on fireproofing in New York area. Our team has...
Read More >>

SPRAY-ON INSULATION
We offer the application of a variety of spray on insulation products. For thermal and acoustical insulation...
Read More >>

INTUMESCEN PAINT
Intumescent paints can be used on new or old surfaces. Improved fire resistance can be imparted to accumulations of flammable paint...
Read More >>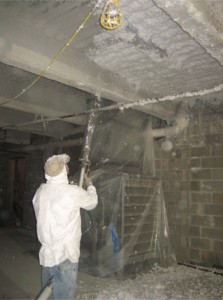 WELCOME TO CAG GROUP, LLC
CAG Group LLC has a team with over thirty five years of experience in the application of Spray on fireproofing and Spray on Insulation products.
We provide active project management and trained field personnel that can accommodate any job, ranging from a single bag of application to projects covering millions of square feet. Also, with our estimating system, we offer in-house and field estimates upon request, with quick and accurate pricing
We have the manpower, experience, and steadfast commitment for doing things right and finishing projects on time, enabling us to be one of the best, most trusted fireproofing contractors in the New York City Area